Dog Daycare Calendar
Calendar is updated weekly by Tuesday for the following week but, may be changed on shorter notice during holidays or COVID period. Please check and refresh page to see the most current dates. Please call, email or text to reserve ONLY IF REQUIRED. New clients
click here
to set up your account.
Not Available/fully booked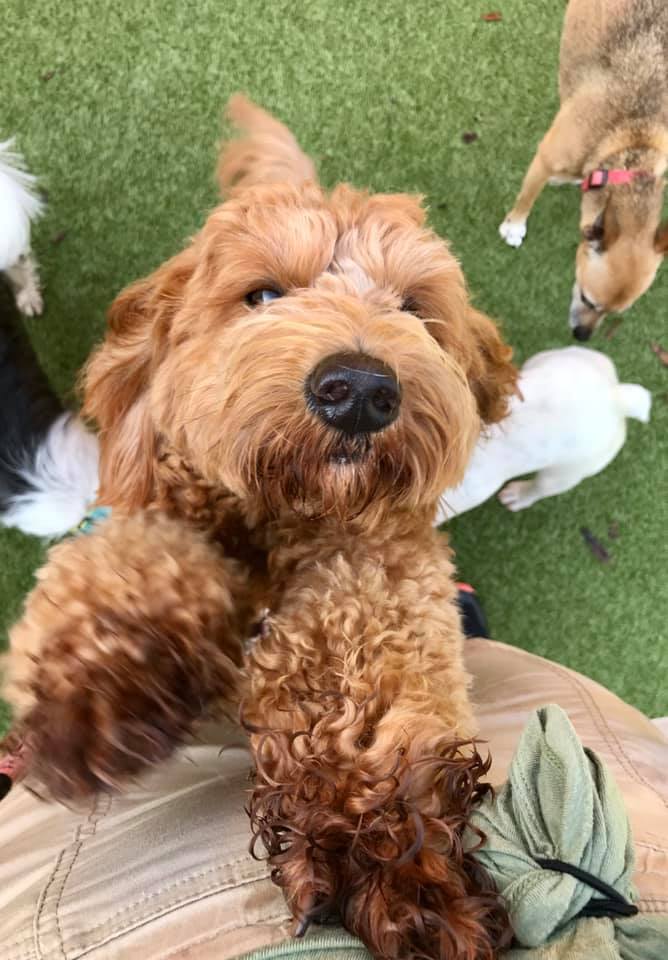 Our customers often ask…what is Dog Daycare? PUPSI has incorporated daycare into our daily operations since day one. We are the largest original dog daycare facility in the Triangle and one of the first in the nation!
Daycare is for dogs who like other dogs. These daycare dogs get plenty of exercise (5-7 hours depending on weather) with a break in the middle of the day to eat and nap. Then they come home each afternoon ready to rest…most are pretty worn out.
Other benefits of dog daycare:
Social environment where dogs can play together with proper supervision and care.
Day-long schedule to maximize play time, excellent for high energy dogs.
Year-round daycare operation (except for weekends which is just for boarding dogs).
Personal attention by trained, professional staff members.
Great for puppies to help them learn to play and interact with new dogs properly.
Socializing for timid dogs that have never been around other dogs before.
Helping to curb separation anxiety.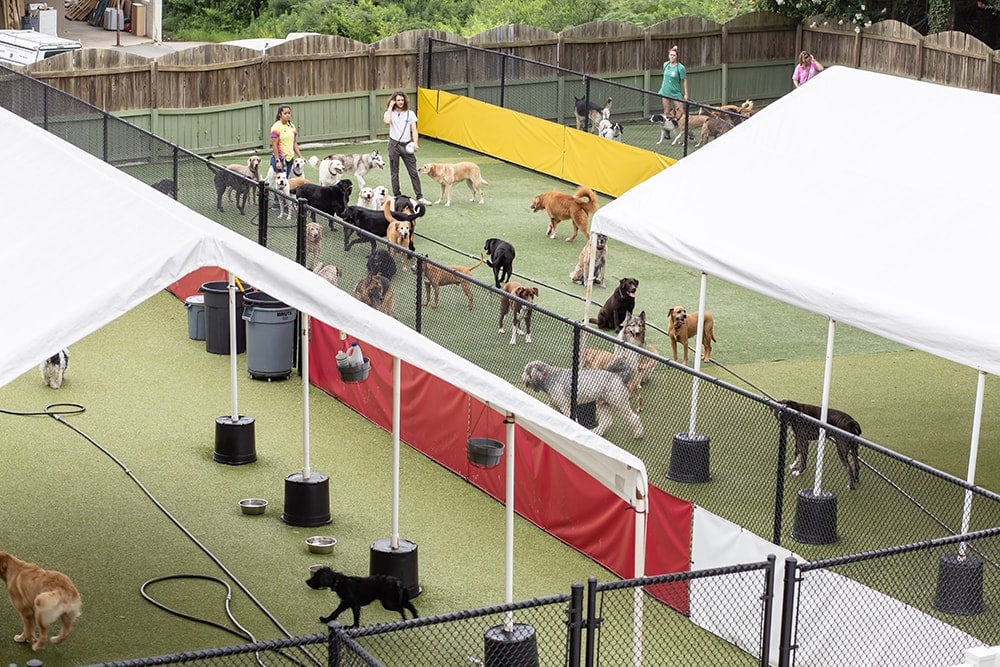 Daycare normally operates Monday through Friday with no appointment needed, except for holiday/seasonal periods when it may be unavailable or by reservation only. Please check the calendar for status. If it is your first time, please check availability on the calendar above, fill out our service contract and come on over! Make sure to bring proof of current vaccines. Daycare may be available during the weekends if you need it (check availability); however, you will be charged your dog's boarding rate for the day as weekends are just for the boarding dogs. Drop off is between 7:30 – 9:30 AM and pick up is from 4:00 – 6:00 PM. Times are subject to change to accommodate summer and winter weather. Daycare closes on some weekdays depending on holiday periods. If a holiday is approaching, please check the top of this page for closures to avoid any inconvenience.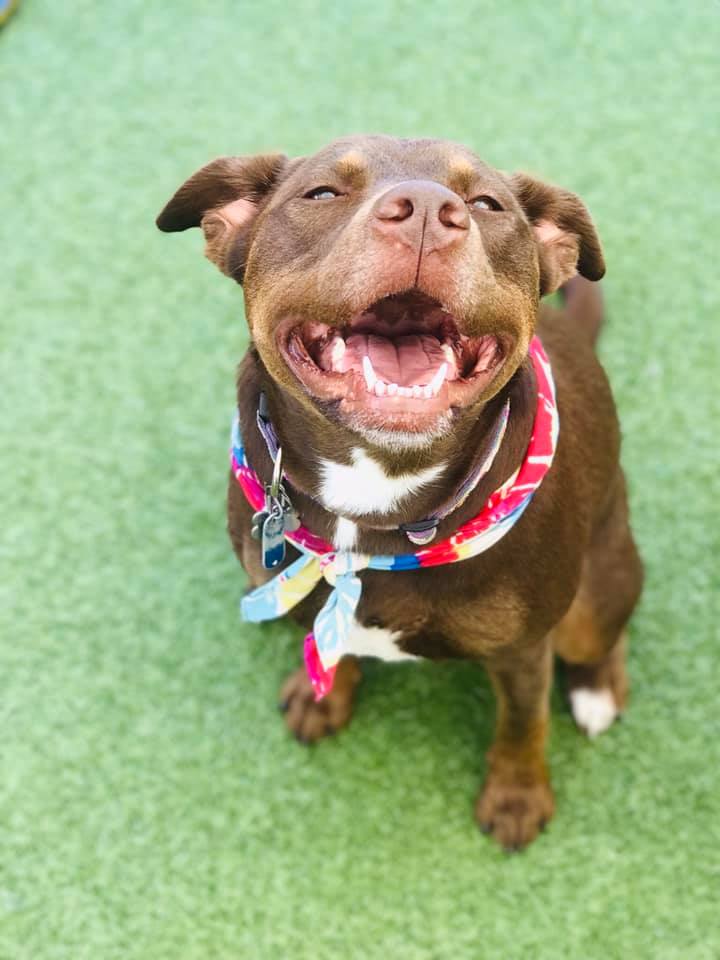 Also: during summer operation and warm weather, your dog will probably come home WET! 🙂 This is due to pools and sprinklers that we use to help keep them cool and comfortable. As you probably know, dogs don't sweat like we do and they have a thick fur coat. To make sure no one gets overheated, we make it our top priority to keep them wet during high temperatures. Although there is no dirt at PUPSI, your pup may smell like a wet dog when he or she comes home. If this is a concern, please let us know and we will ensure that your dog avoids playing in the water for the day or you can arrange to have a bath.
We have been taking our dog, Bailey, to Pupsi for over a year now and are very happy with our choice. The staff is exceptional, and their actions show they love dogs.

Laurie H.
Dog Daycare Rates and Rules
PUPSI provides Dog Daycare at a simple one-price fits all rate.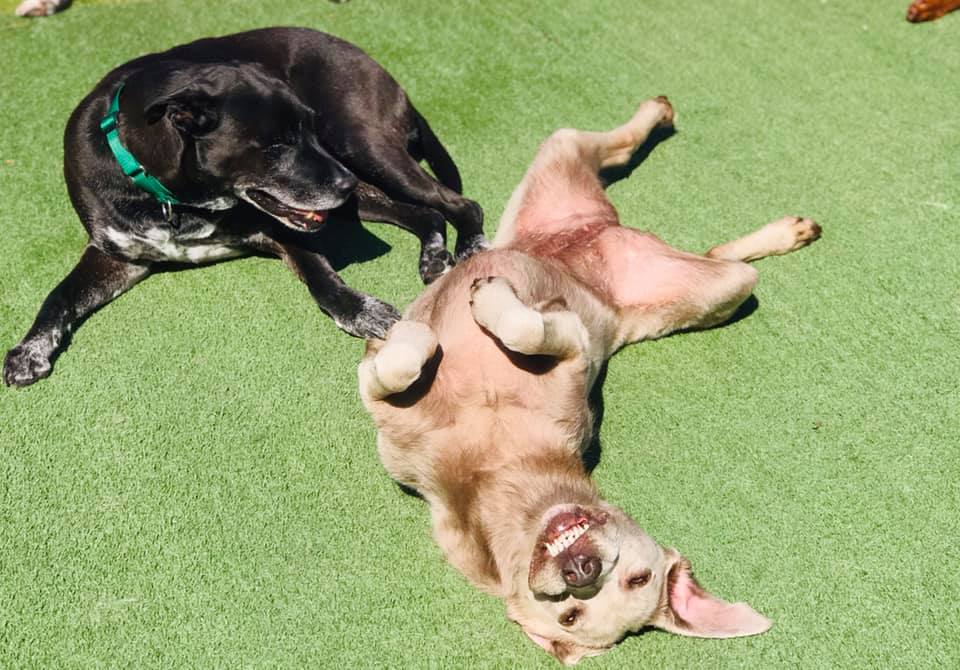 Single-Day: $27 per day per dog.
13-Day Package: $275 (Three days free! Save $76!) These days are good for one year from the date of purchase. Packages auto renew unless notified before they expire. Non-transferable and non-refundable.
Unlimited Monthly Package: $325 per month (ideal for clients needing 16 days or more per month). Come as often as needed for a 30-day period Mon-Fri. Subject to availability. Packages auto renew unless notified before they expire. Non-transferable, non-refundable.
Additional Services: Pet grooming services: Let 'em play and come home with a bath or groom! Contact us for pricing.
Daycare Rules:
PUPSI strives to keep your dog safe and happy throughout their stay. Please read and follow the rules below to help PUPSI maintain a safe and affordable daycare for your pet. Thank you for taking the time to read the following rules for our dog daycare.
Please walk your dog prior to bringing him to daycare (this helps to keep our daycare facilities as clean as possible).
All dogs must be checked for fleas upon arrival. If found, a flea bath will be administered at an additional charge to the owner.
All dogs must be up to date on inoculations to participate in daycare at PUPSI. Puppies must be done with ALL rounds of vaccines to start. Please remember, young pups and senior dogs are more susceptible to bacteria/virus as their immune systems may not be at its peak.
Up to date inoculations are required for Rabies, Distemper/Parvo or combo vaccine and Bordetella – view example here. Proof of monthly flea and heartworm preventative is required – view example here. Proof of vaccinations can be brought in when you come, faxed to 919-460-0114, or emailed to us at pupsi.inc@gmail.com.
Please do not come in if your dog is showing any signs of illness. Let staff know if you have been to your vet for any treatments when checking in, or if your dog is ill or just recovering from an illness. Communicating this type of information properly helps us keep PUPSI safe for all dogs attending.
Please provide any food or treats that your dog will require during their day. We do not recommend feeding your dog breakfast as this can cause them to vomit once they start running/playing. If you would like your pup to eat after the morning shift, please bring the food in a re-sealable container and they will be fed while resting.
Clients with a daycare reservation who do not show up or fail to cancel prior to that day will be charged for that day, or have a day deducted from their package.
Disclaimer:
Please note the playground surface is astroturf. This is an NC Department of Agriculture recommended surface for daycare areas, but dogs who are not used to playing on this surface can get irritated pads, which get tougher over time. In the summer, these areas are sprayed down and cool to the touch. The groups are rotated for short periods of time depending on temperature and humidity. The more active your dog is playing on these surfaces (running, sliding, playing), the more likely they are to irritate their pads. Every dog differs in the amount that they will show (limping) signs that their feet are beginning to bother them. When we notice any signs of pad irritation, they have to come inside for treatment and their playtime will be reduced to decrease further irritation. Pads can blister, crack, cut and bleed once these injuries have started. Your dog will probably have trouble walking on the irritated feet and require some downtime and ointment/cleaning regimen. Please note that this is not commonplace but can happen and we want you to be informed beforehand.
Remember, this is a facility where dogs get to play with dogs most of the day. As dogs like to run, slide, play-bite, paw, scratch and wrestle, there comes a risk of mild injury (minor cuts, scrapes, nicks, etc.) or more serious injuries (dog bites, etc.). While this is not common, customers should be aware and prepared. Please note, owners are responsible for any vet bills incurred as the result of an injury caused by their dog. Sometimes even the most experienced staff members cannot control an altercation fast enough to prevent injury. While this is not commonplace, it can occur from time to time. Once again, the main focus at PUPSI is the care and safety of your pet. All new dogs are evaluated for aggression. If any dog is found to be aggressive or "bully" the others, that dog will be removed from play to maintain the safety of the group.