Dog Boarding Calendar
Please check availability using the calendar below, and if you are ready to book,
click here
. Remember-you are always charged a non refundable deposit when you request boarding.
Holiday, no pick up or drop off
Holiday-booked, no pick up or drop off
Time For A Doggie Sleepover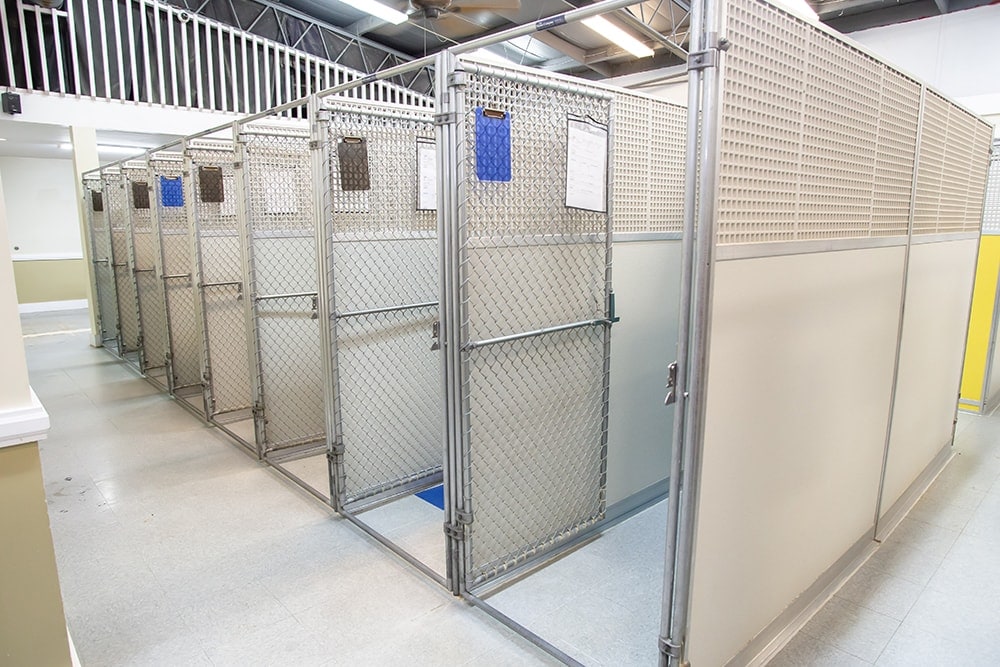 PUPSI offers premium overnight boarding for your dog, providing a safe, clean environment with entertainment and exercise included throughout your pet's stay.
Your pup will be given personal attention at all times by our professional staff, they will have so much fun they won't have time to miss you too much. In fact, they will probably be too busy having a blast chasing friends during playtime, swimming in the summer or just lounging in the sun/shade which is included in your boarding fare at no extra cost.
Knowing PUPSI is caring for your pet while you're away will make saying goodbye to her easier. Your pup will get to enjoy all of our favorite amenities, including:
Room to run! our multiple yards spread out over 15,866 sq. ft. of astro turfed playground will burn off some energy
Plenty of play time. With 5-7 hours of stress-relieving exercise each day (weather permitting) where dogs will run, chase and play with friends of similar size and temperament. Dogs always come in for a break in the middle of the day and overnight
Wading pools and shaded areas during the summer months to keep cool in the heat
Individual kennel or room with water, food (owner provided) and bed/blanket
Individual attention and scheduling for sensitive, older or nervous dogs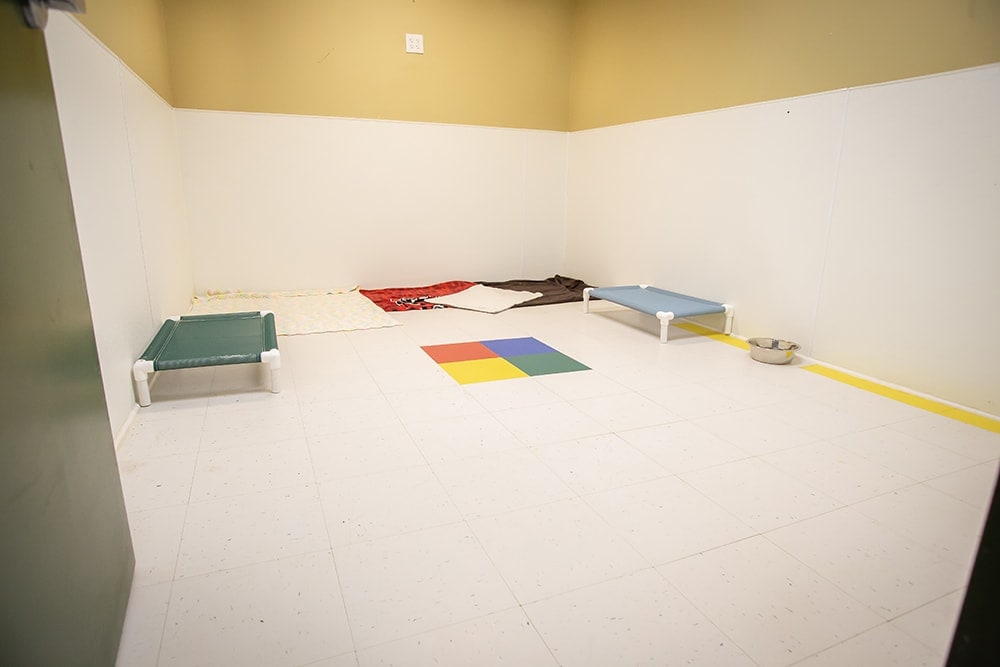 Boarding Rates
We have 2 boarding rates depending on if you need a standard kennel run or a large private room (see photos). All rates include boarding, full day play, and feeding your diet.
Kennel rate per dog includes all playtime $44 per day
Room rate per dog includes all playtime $60 per day
Calculating Boarding Days
All rates are per dog, per calendar day (not per night) even if sharing a kennel or room. Drop off day is a full day charge regardless of AM/PM drop with a 1-day minimum, and accrue every AM/PM shift thereafter. See the chart below for examples of how boarding days are calculated.

Friday
Saturday
Sunday
AM 1/2
AM 1/2
AM 1/2
ex: Fri-Sun AM
PU = 2.5 days
PM 1/2
PM 1/2
PM 1/2
ex: Fri-Sun PM
PU = 3 days
ex: drop off Friday, drop off day is full day charge regardless AM or PM drop off
You may drop off and pick up your dog during our two shifts:
AM shift: 7:30-9:30 am
PM shift: 4:00-6:00 pm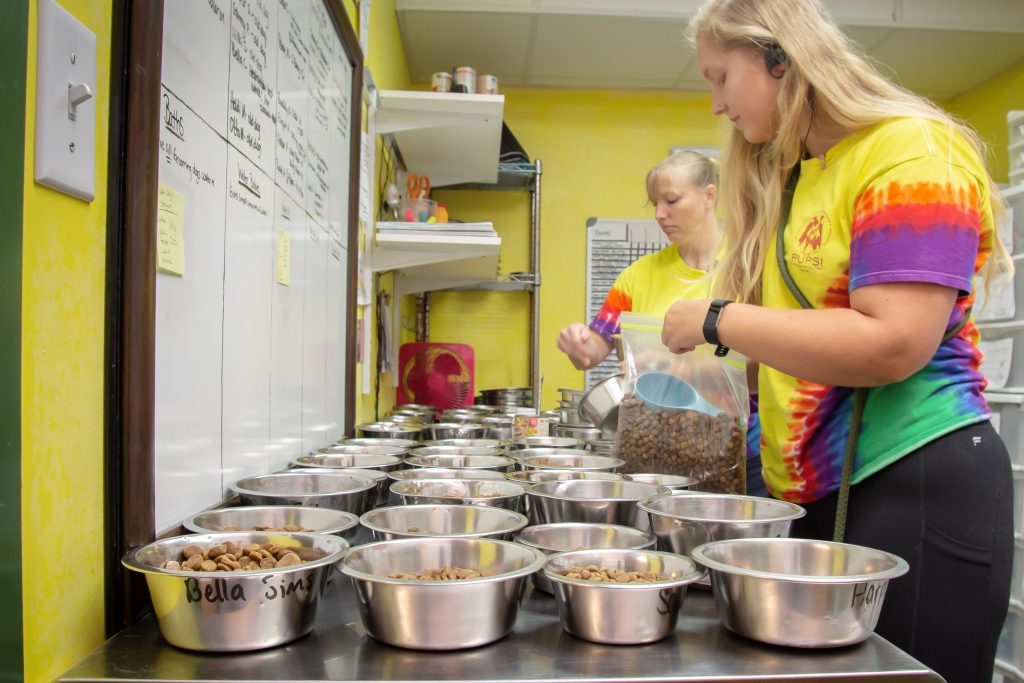 Pricing for Additional Services:
Pet grooming services: Contact us for pricing
Administration of medications/supplements: $15 per med, per visit (not per day)
Payment Policy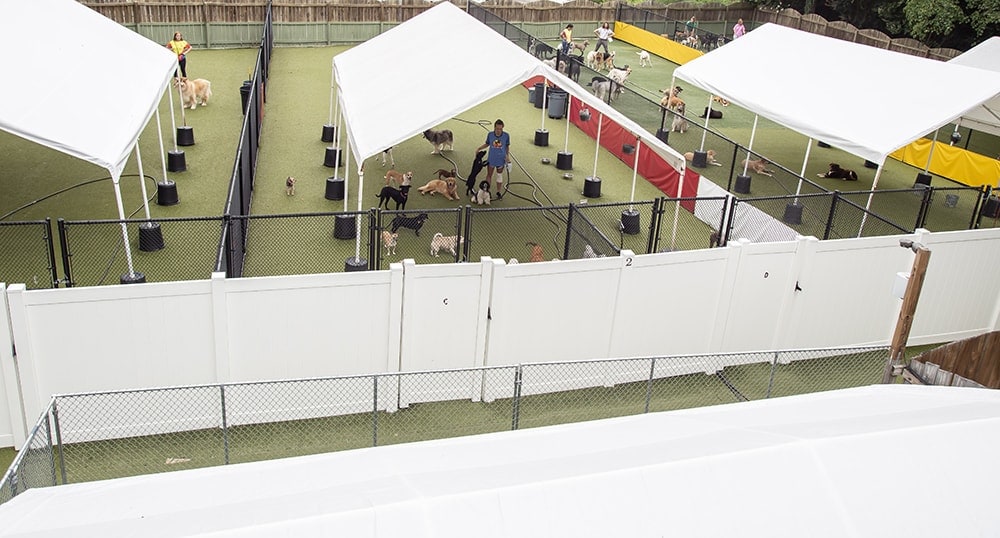 Booking: Whenever you request a booking for your dog, all clients pay a non-refundable, non-transferable deposit of 1/3 the total charge (or 1-day minimum). Payment in full at drop off.
Holidays: Holidays are a 3-day minimum charge/stay, no pick up's or drop off's on the holiday itself (e.g. Christmas day, Independence day, Memorial day etc.). Payment in full at drop off.
"Pay for what you book" Policy: You may drop off your dog later than booked or pick up her up earlier than planned, but there is no credit or refund given. Because we hold a space/service for the allotted time frame for you, we expect you to honor your contract. Please be there or pay for the days/services that you requested.
Boarding Rules and Instructions
At PUPSI, we want your dog boarding experience to go as smoothly and safely as possible. That's why we've created several procedures and guidelines to ensure everyone is on the same page. Carefully read on to learn important rules regarding payment and safety measures.
To keep your dog safe and happy, we ask that you do not book an individual room if your dog is destructive. More importantly, if you put multiple dogs in a room, be sure they get along with each other.
For dogs staying in a kennel, do not bring personal items, toys, beds or other accessories – PUPSI provides these.
All dogs will be checked for fleas upon arrival. If found, a flea bath will be administered at an additional charge to the owner.
All dogs must be up to date on inoculations to participate in daycare at PUPSI. Puppies must be done with ALL rounds of vaccines to start. We also do not take dogs once they are over 13 years old, instead recommend that they attend a facility with veterinary staff on site 🙂 Please remember, young pups and senior dogs are more susceptible to bacteria/virus as their immune systems may not be at its peak.
Up to date inoculations are required for Rabies, Distemper/Parvo or combo vaccine and Bordetella – view example here. Proof of monthly flea and heartworm preventative is required – view example here. Proof of vaccinations can be faxed to 919-460-0114, texted to 919-460-9909 or emailed to us at pupsi.inc@gmail.com.
Please bring food any medications in a labeled, re-sealable container with your dog's name and instructions, including the amount/dose per day.
Please do not come in if your dog is showing any signs of illness. Let our staff know if you have been to your vet for any treatments when checking in, or if your dog is ill or just recovering from an illness. Communicating this type of information properly helps us keep PUPSI safe for all dogs attending.
If it is your dogs first reservation, they will need to attend a day of daycare first to evaluate.
Disclaimer:
Please note the playground surface is astroturf. This is an NC Department of Agriculture recommended surface for daycare areas, but dogs who are not used to playing on this surface can get irritated pads, which get tougher over time. In the summer, these areas are sprayed down and cool to the touch. The groups are rotated for short periods of time depending on temperature and humidity. The more active your dog is playing on these surfaces (running, sliding, playing), the more likely they are to irritate their pads. Every dog differs in the amount that they will show (limping) signs that their feet are beginning to bother them. When we notice any signs of pad irritation, they have to come inside for treatment and their playtime will be reduced to decrease further irritation. Pads can blister, crack, cut and bleed once these injuries have started. Your dog will probably have trouble walking on the irritated feet and require some downtime and ointment/cleaning regimen. Please note that this is not commonplace but can happen and we want you to be informed beforehand.
Remember, this is a facility where dogs get to play with dogs most of the day. As dogs like to run, slide, play-bite, paw, scratch and wrestle, there comes a risk of mild injury (minor cuts, scrapes, nicks, etc.) or more serious injuries (dog bites, etc.). While this is not common, customers should be aware and prepared. Please note, owners are responsible for any vet bills incurred as the result of an injury caused by their dog. Sometimes even the most experienced staff members cannot control an altercation fast enough to prevent injury. While this is not commonplace, it can occur from time to time. Once again, the main focus at PUPSI is the care and safety of your pet. All new dogs are evaluated for aggression. If any dog is found to be aggressive or "bully" the others, that dog will be removed from play to maintain the safety of the group.
Dogs are not our whole life, but they make our lives whole.

BOB
---
Board Your Dog With Us Today
PUPSI is eager to provide your pup with the finest dog boarding experience ever. We strive to ensure they stay safe, have fun and are too entertained to miss you too much! Travel confidently knowing your furry best friend is having the best sleepover ever. For more information, read our Frequently Asked Questions or contact us directly.